Dates: November 11-13, 2015
Venue: Radisson Blu Hotel in Dakar, Senegal
Conference theme: Coordinating Global Health Supply Chains to Maximize Impact: People, Processes and Product
LATEST AGENDAS: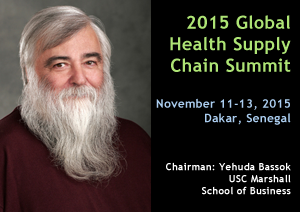 The 8th Global Health Supply Chain Summit (GHSCS) will be held at the Radisson Blu Hotel in Dakar, Senegal from November 11-13, 2015. The summit will focus on coordination – bringing together the people, products and processes to maximize the impact of global health supply chains. Participants will hear about case studies, strategies, and frameworks for coordination of global health supply chains from practitioners and academics that will draw on examples from both public sector and private sector applications. To explore these topics in depth, as in previous conferences the summit will assemble a collection of practitioners and experts in the field including academics, country planners, NGOs, logistics practitioners, pharmaceutical industry and donor representatives.  We encourage English and French speaking presenters and participants. We will provide French-English and English-French simultaneous translation. The conference schedule includes:
Nov 11-12, 2015
Keynotes, presentations, and discussions
Finalist presentations and announcement of the 2nd Global Health Supply Chain prize
Nov 13, 2015
Training on relevant best practice tools in supply chain management;
Academic session for doctoral students and young faculty to discuss research in global health supply chains
Attendees will thus get access to both best practice results, ideas regarding state of the art tools, as well as "how-to" ideas to improve performance in their respective contexts.
Coordination of global health supply chains requires information sharing, balancing of incentives, sharing risk, long term partnerships, and innovation. The availability of technology (smartphones, low cost internet access, tablets, laptops, etc.) enables data sharing and real time information. The conference will provide a platform for participants to share novel approaches to coordination and related technology implementations. Applications that have on-the-ground data sources, insights from datasets, thoughtful field studies of practice related challenges will be highlighted. The summit will provide a unique opportunity for discussions between practitioners, academics and donors to review and discuss multiple perspectives based on the evidence, research and best practices relating to ongoing transformations of global health supply chains.
The summit will thus provide a forum for attendees to learn from the community of global health care supply chain experts. Challenges in dealing with health care remain urgent, but the adoption of innovative practices, technologies and coordinating agreements provides hope for a brighter future.
The 8th Global Supply Chain Summit will also announce the winner of the 2nd Global Health Supply Chain Prize. Details regarding application for this prize will be forthcoming soon. If you have an innovative application and operate in a low or middle income country, we encourage your share your success and become a contender for the prize. Selected finalists for the prize will have the opportunity to present their initiative at the conference to a panel of judges, who will select the winner.
Registration: This year the registration fee is $350. If you need a scholarship please contact Yehuda Bassok at: ybassok@gmail.com. Registration details will be available soon on the registration tab.
Invitation letter for visa purposes: Should you require an invitation letter (for applying for a visa or funding) please contact Dr. Yehuda Bassok at ybassok@gmail.com.
We hope that you will be able to participate in this exciting summit.  We will provide hotel information shortly.