The GHSCS Prize for "Supply Chain Excellence in Global Health in Low and Low-Middle Income countries[1]"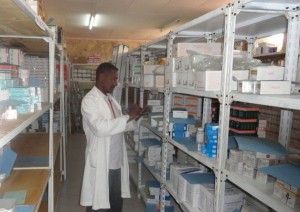 Challenges in managing supply chains to deliver health outcomes in global health contexts abound, particularly when factors beyond the control of supply chain managers such as infrastructure, port clearance delays, weather, governance issues, location of clinics, human resource capabilities, etc. all impact success. Despite such challenges, we see stories of remarkable success in improving health delivery and outcomes that leverage partnerships between organizations, and in cooperation with governments, NGOs and donors, deploying innovative and appropriate technology and human resource practices. We seek to recognize such organizations by focusing in on projects that have delivered documented success.
CALL FOR SUBMISSIONS: 
This document provides an outline for a submission to be considered for the prize, due on October 6,  2017.  From all submissions from a country, at most one entry per country will be selected by the judges to move to the final round.  Up to six projects will be invited to the 10th GHSCS summit at the Hotel Kempinski in Accra, Ghana (November 15-17, 2017) to make presentations. The winning organization will be recognized with a $2500 prize, with all runners up being awarded a plaque recognizing their being a finalist.   We expect to list all submissions and showcase the six finalists on the GHSCS website.  One representative for each project will be funded (airfare, hotel and meals) to attend the 10th GHSCS and present the work.  The judging of the projects to select the six finalists and the winner will be declared by a respected team who have experience in global health contexts but are not involved in any of the projects submitted.
Please note that past finalists will have to include a justification of additional work and outcomes to be considered this year. Past winning projects are not eligible for submission.
A submission to be considered for the prize will consist of the following:
Location, organization and project along with the duration of the project. Please specific the measurements that will be used to describe the impact of the project before and after.  Please include both supply chain metrics as well as health outcome measures.
Specific intervention or idea that was implemented – please provide detail. The kinds of ideas implemented can be broad and vary from inventory systems, information systems, transport, forecasting, coordination etc.
When you list the different organizations and funding entities involved, please provide specifics. Documentation of details can be in the form of reports, actual data sheets, delivery manifests etc.
Please describe the tracking, analysis, decisions that had to be made along the way as the project unfolded. Please include intermediate reports that were prepared and how the metrics of performance were tracked.
What were the challenges faced and how were they overcome?
Please summarize what the project achieved. What were the key factors that enabled success?. How will the project be sustained over time? What can other locations (countries or organizations) learn from your project?
Authors submitting should be available for two conference calls with judging committee representatives – please provide contact phone numbers and email addresses with your application. Please upload all your document to the site listed by October 6, 2017 ->  https://easychair.org/conferences/?conf=7ghscs
You will be prompted to create a free account and then upload your documents.  If you have any difficulty, please email all documents to Professor Yehuda Bassok at ybassok@gmail.com  Note that only submissions received by October 6, 2017 will be eligible for the 2017 prize this year.
Our expectation is that the total length of your submission will be about 5 pages.  Please feel free to attach any documents in the Appendix that will enable us to understand your project.
[1] The eligible Low and Low-Middle Income countries are listed in the World Bank website http://data.worldbank.org/about/country-and-lending-groups